MPO Asteroid Viewing Guide - Orbits Calculator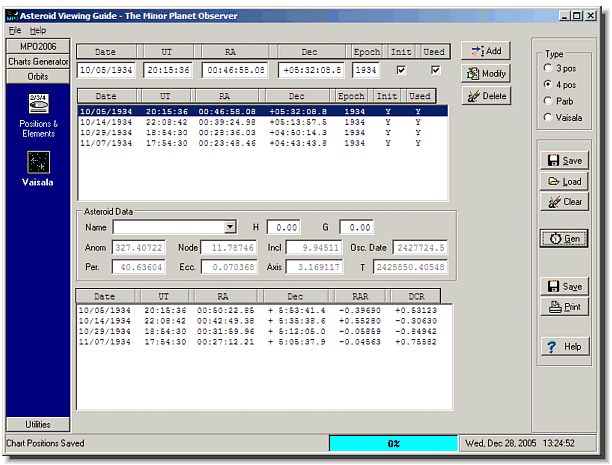 The Orbits page is used to enter observations and choose the method of orbit determination. If elements can be found, they are displayed in the section just below the area where positions are entered. Also, all positions marked as used are "back-fitted" to those elements to compute the residuals of the observed minus calculated positions. The results of those calculations are shown in the bottom portion of the form.
Orbit Calculation Methods
The orbit calculator can use one of four methods
3 Position (Classic Gaussian)
4 Position (Modified Gaussian)
Parabolic (Olbers - assumed eccentricity = 1.0)
Vaisala (Two positions - assumed circular orbit and object near perihelion/aphelion)
If the positions are not J2000, they are precessed before the calculations begin. The positions must be geocentric for maximum accuracy since the solar positions are calculated for geocentric position.